Biographical Information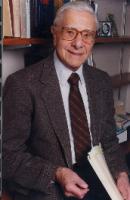 Albert J. Rosenthal received his B.A. from the University of Pennsylvania, 1938 and his LL.B. from Harvard in 1941. He was the president of the Harvard Law Review and law clerk to Judge Magruder of the First Circuit Court of Appeals, 1941–42, and to U.S. Supreme Court Justice Felix Frankfurter, 1947–48.
After work in government and eleven years of private practice, he joined the Columbia faculty in 1964. He became dean of the Columbia University Faculty of Law between the years of 1979–84.
Has published in the areas of constitutional law, contracts, commercial transactions, environmental law, and employment discrimination. He passed away on March 17, 2010.