Biographical Information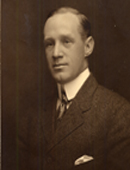 A native of Norfolk, Virginia, Armistead Mason Dobie received 3 degrees from the University of Virginia—a B.A. in 1901, M.A. in 1902, and LL.B. in 1904. As a member of Phi Delta Phi, he is said to have initiated the annual tradition of parodying the law faculty. He spent 3 years in practice in St. Louis, Missouri, during which he conducted the Symphony Orchestra at the World's Fair. He returned to teach at UVA Law in 1907, becoming a full professor in 1909. Dobie left the University to serve in World War I, serving in the Army in France and rising to the rank of Major. After the war ended, he went to Harvard Law School to begin work on an S.J.D. He also studied at Columbia's Graduate School of Jurisprudence before returning to Charlottesville in the fall of 1922. Dobie's experiences at Harvard led him to introduce the case method of teaching law at Virginia despite Dean Lile's resistance to this approach. Other young professors including Ribble and Dillard would quickly follow Dobie's lead and by the early 1930s, the case method was fully embraced by the faculty of the University of Virginia Law School.
During his tenure at UVA Law Dobie taught federal procedure, legal history, taxation, code pleading, criminal law and procedure, wills, and sales. Dobie edited casebooks and wrote texts on federal jurisdiction and procedure, the law of bailments and carriers, and federal rules. His former student, Jack Ritchie, recalled him as "colorful, vital, dynamic, dramatic, sarcastic on occasion, and never at a loss for words. He dominated his classes by force of his awesome intellect, and the incisive probing questions that he addressed with machine-gun-like rapidity to the hapless student called on to recite." Dobie succeeded Lile as Dean of the Law School in 1932, resigning when F.D.R. appointed him first as a U.S. District Court Judge in 1939 and in 1940 to the Fourth Circuit Court of Appeals, where he served for over sixteen years. Judge Dobie continued to teach a class in federal procedure until 1951. He died in 1962.
A collection of Dobie's judicial and professional papers is available in Special Collections.
Position:
2nd Dean of the Law School
U.S. District Court Judge
Fourth Circuit Court of Appeals Judge
Professor
Affiliation:
2nd Dean of the Law School, Faculty, Alumni