Biographical Information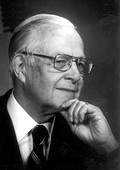 A.C. had a distinguished career at the University of Virginia, having been elected to Phi Beta Kappa as an undergraduate. He was a president of the graduating class at the University of Virginia Law School in 1938, having been selected to be a member of the board of editors of the Virginia Law Review.
One of A.C.'s closest friends was Thomas C. Gordon Jr., who served as a justice of the Virginia Supreme Court and as chairman of the firm now known as McGuireWoods.
A.C. also was quite active in his profession, having served as president of the Bar Association of the City of Richmond in 1963 and president of the Virginia Bar Association from 1966-1967.
In his later years, A.C. specialized in work before the State Corporation Commission of Virginia and was a well recognized expert in cases before that judicial body, particularly rate-making actions. A.C. also found time to serve on the Richmond School Board and the Friends of the Richmond Public Library and on the board of directors and as president of Children's Hospital, among many civic activities.
Through the years the name of Christian, Barton, Parker & Boyd changed to Christian, Barton, Parker, Epps & Brent, then to Christian, Barton, Epps, Brent & Chappell and, now, Christian & Barton. However, no matter what the name was, at no time through these years did the quality of service and client devotion waver. This was because of lawyers such as A.C. Epps.