Biographical Information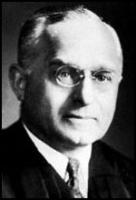 Felix Frankfurter was born in Vienna, Austria, on November 15, 1882. Twelve years later the family emigrated to the United States. After graduating from New York City College in 1902, Frankfurter entered Harvard Law School. While studying for his degree he also edited the Harvard Law Review.
In 1906 Henry Stimson, a New York attorney, recruited Frankfurter as his assistant. When President William Howard Taft appointed Stimson as his secretary of war in 1911, he took Frankfurter along as law officer of the Bureau of Insular Affairs. Frankfurter also became involved in the Tom Mooney case. According to Robert Lovett: "Felix Frankfurter, on a mission to examine and report to President Wilson on labor difficulties in the West, saw through the plot and warned the president of the danger in the execution of an innocent man whose fate was exciting workers all over the world. After commutation of the sentence to imprisonment for life, the long struggle began. One by one the folds of perjury were peeled away until the nucleus of the noxious growth was reached."
When Stimson lost office in 1914, Frankfurter returned to the Harvard Law School as professor of administrative law. Over the next few years he acquired a reputation for holding progressive political views. A founder member of the American Civil Liberties Union (ACLU) he criticised the Tennessee Anti-Evolution Law and joined the campaign to overturn the death sentence imposed on Nicola Sacco and Bartolomeo Vanzetti.
Frankfurter gave legal advice to Franklin D. Roosevelt when he served as governor of New York (1929-1932). When Roosevelt became president he often consulted Frankfurter about the legal implication of his New Deal legislation. In 1939 Franklin D. Roosevelt appointed Frankfurter as a Supreme Court justice. Frankfurter took a strong stand on individual civil rights and this led to him being condemned as an "extreme liberal."
Frankfurter died in Washington on February 22, 1965.
Position:
U. S. Supreme Court Justice
Affiliation:
U. S. Supreme Court Justice