Biographical Information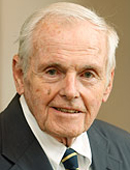 Jeffrey O'Connell is a specialist in accident and insurance law and co-author of the principal work that proposed no-fault insurance. Most recently O'Connell has designed an "early offers" plan where businesses facing personal injury lawsuits could promptly pay injured parties for out-of-pocket medical expenses and lost wages.
After O'Connell graduated from Harvard Law School, he was a trial lawyer in Boston with the firm of Hale & Dorr. He came to Virginia in 1980 after 16 years at the University of Illinois. He also has taught at the University of Iowa and has been a visiting professor at Northwestern, the University of Michigan, Southern Methodist University, the University of Texas at Austin, the University of Washington, and Oxford and Cambridge universities in England. He was the recipient of Guggenheim fellowships in 1973 and 1979. In 1989 he was the Thomas Jefferson Visiting Fellow at Downing College, Cambridge University and, in 1991, the John Marshall Harlan Visiting Distinguished Professor at New York Law School. In 1992 he received the Robert B. McKay Award for Tort and Insurance Scholarship from the American Bar Association.
O'Connell has served on the board of directors of Consumers Union, the Educational Advisory Board of the John Simon Guggenheim Memorial Foundation, and the Medical and Safety Committee of the NCAA.
Since 1966 he has written or co-written 12 books dealing with accident law, published dozens of articles on tort and insurance law, and lectured extensively throughout the United States and the world.
Position:
Samuel H. McCoy Professor of Law