Biographical Information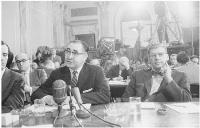 Joseph L. Rauh, Jr. was born on January 3, 1911 was an attorney and political activist. Joseph Louis Rauh was born in Cincinnati, Ohio, to Joseph Rauh, a shirtmaker, and Sarah Weiler Rauh. Joseph Rauh Sr. had emigrated with his own father in 1891 from Germany to Cincinnati, where they worked in the shirtmaking industry, and by 1912 he was able to establish his own shirt-manufacturing company. Young Joseph and his brother and sister grew up in a well-to-do Jewish household with a strong emphasis on education. He attended the University School in Cincinnati, and after his graduation in 1928, he entered Harvard College, where he majored in economics and played center on the basketball team. He graduated magna cum laude in 1932.
By then the Great Depression had engulfed the nation, and the job market was limited. This influenced Rauh's decision to enroll that fall in Harvard Law School, where one of his professors was Felix Frankfurter, the future U.S. Supreme Court justice. Graduating first in his class three years later, Rauh was recommended by Frankfurter for an appointment as senior law secretary to the U.S. Supreme Court justice Benjamin Cardozo. Rauh became a close friend of Cardozo and absorbed much of his mentor's liberal judicial philosophy. When Cardozo died in 1938, Frankfurter succeeded him on the Supreme Court and appointed Rauh as his own senior secretary. During these prewar years Rauh also worked as an attorney for the Wage and Hour Administration, a division of the Department of Labor, and for the Federal Communications Commission and other government agencies.
In 1941 Rauh was appointed counsel to the Lend-Lease Administration, which oversaw the loan of battleships and other war equipment to Allied governments. Following U.S. entry into World War II in December of that year, Rauh joined the army as a first lieutenant and was assigned to the staff of General Douglas MacArthur in the Philippines. Over the next three years Rauh continued to serve in the Pacific Command as a civil affairs expert, rising to the rank of lieutenant colonel and earning the Legion of Merit and the Distinguished Service Star for his performance.
Returning to civilian life in Washington, D.C., in 1945, Rauh was admitted to the District of Columbia bar and the following year assumed an administrative post with the Veterans' Emergency Housing Program. In 1947 he became the senior partner in his newly established law firm, Rauh and Levy, and began a long career as a labor lawyer, numbering the United Auto Workers and the Brotherhood of Sleeping Car Porters among his clients. He also became active in Democratic Party politics, serving as a local party official. As a delegate to the 1948 Democratic National Convention, Rauh successfully lobbied for the insertion of a strong civil rights plank in the party platform. He was similarly active at the party's national conventions over the following decades.
In the immediate postwar years, as tensions increased between the United States and the Soviet Union, Rauh envisioned the need for a liberal but anticommunist organization that would support the preservation of civil liberties in the face of threats to undermine them in the name of national security. To that end he joined with like-minded associates to found the Americans for Democratic Action (ADA) in 1947 and became the chairman of its executive committee; he held that post until 1952, when he was elected a national vice chairman of ADA. Rauh served as national chairman of ADA from 1955 to 1957 and held other posts in the organization until his death.
In the late 1940s and early 1950s, congressional committees were zealously investigating alleged Communist infiltration of American institutions, and the federal government authorized legislation that often curtailed the civil liberties of innocent citizens. As the so-called Red Scare spread, Rauh represented clients accused of being Communist supporters, among them men and women denied jobs because they refused to sign loyalty oaths and others denied passports because they were deemed security risks. By the mid-1950s he had gained recognition as the nation's leading civil rights attorney. Among his clients was the playwright Arthur Miller, whom he defended in 1957, after Miller was held in contempt of Congress for refusing to identify fellow writers who might be Communists. Though initially convicted, Miller was later exonerated by a federal appeals court. Despite these associations, however, Rauh himself was strongly anticommunist and refused to defend known Communists in the courtroom.
As the anticommunist scare subsided in the late 1950s, Rauh became increasingly involved in the civil rights movement, which sought to restore and guarantee civil liberties to African Americans. Often working for little or no compensation, Rauh represented various activist organizations, including the Leadership Conference on Civil Rights, which he served as general counsel for more than four decades. A lifetime member and longtime board member of the National Association for the Advancement of Colored People (NAACP), Rauh was also an effective behind-the-scenes lobbyist on behalf of national civil rights legislation and is credited with helping to pass the Civil Rights Act of 1964, the Voting Rights Act of 1965, and the Fair Housing Act of 1968.
A longtime resident of the District of Columbia, Rauh was a strong supporter of the Twenty-third Amendment to the Constitution, ratified in 1961, which gave District of Columbia residents the right to vote in national elections. He was also a staunch advocate of home rule for the District of Columbia, which was finally established in 1975 with the seating of its first locally elected mayor.
Rauh continued to practice labor and civil rights law throughout the 1960s and 1970s. One of his major clients was Joseph Yablonski, who challenged Tony Boyle for leadership of the United Mine Workers. When Yablonski and his family were murdered early in 1970, Rauh suspected Boyle of masterminding the act and pressed the federal government to investigate. As a consequence Boyle was convicted of first-degree murder four years later. By 1980 Rauh had largely given up his law practice, but he remained a public figure in the final decade of his life. He gave speeches on behalf of civil liberties and continued to support the ADA, the NAACP, and other liberal organizations.
In 1935 Rauh married Olie Westheimer; the couple had two sons. The physically imposing Rauh was reputed to be an aggressive combatant in the courtroom, but he had a private reputation for warmheartedness and affability and made no lasting enemies. Though Rauh devoted most of his energies to liberal causes, he was also an enthusiastic recreational tennis player. He died in Washington, D.C. on 1992, following a heart attack. In 1993, a year after his death, he was posthumously awarded the Presidential Medal of Freedom.