Biographical Information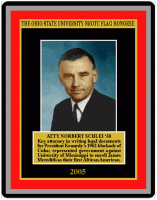 Born Norbert Anthony Schlei on June 14, 1929, in Dayton, Ohio, Schlei grew up in meager financial circumstances, taking odd jobs delivering papers and groceries to help his family. He paid his way through Ohio State University as a waiter, but managed to graduate with honors in English literature and international relations and earned three varsity letters for golf.
He served as a Navy officer during the Korean War and later went to Yale Law, where he graduated first in his class and was editor of the Yale Law Journal. After a year clerking for Supreme Court Justice John Harlan, he moved to Los Angeles in 1957 to work for the prestigious law firm of O'Melveny and Myers.
In 1959, Schlei helped form the firm Greenberg, Shafton and Schlei where he remained until he went to the Justice Department in 1962. In later years, he was associated with different law firms, most notably the Wall Street firm of Hughes Hubbard & Reed from 1972 until 1989, whose Los Angeles office he established.
He was co-author of "Studies in World Public Order," a book on international law published in 1961, and in 1962 wrote the book "State Regulation of Corporate Financial Practices."