Biographical Information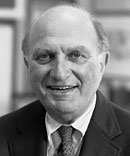 Dorsen is the Frederick I. and Grace A. Stokes Professor of Law at New York University School of Law, where he has taught since 1961. He was the founding director of NYU School of Law's innovative Hauser Global Law School Program in 1994 and is now its faculty chair.
He is also the author or editor of many articles and books. He served as president of the American Civil Liberties Union 1976-1991. Earlier, while general counsel to the ACLU 1969-1976, he participated in dozens of Supreme Court cases, arguing among others those that won for juveniles the right to due process, upheld constitutional rights of nonmarital children, and advanced abortion rights. He helped write petitioner's brief in Roe v. Wade and appeared amicus curiae in the Gideon case, the Pentagon Papers case and the Nixon Tapes case.
Dorsen was the founding president of the Society of American Law Teachers in 1973. He was chairman of the Lawyers Committee for Human Rights 1996-2000. Since 1996, he has served as founding president of the U.S. Association of Constitutional Law, an affiliate of the International Association of Constitutional Law. He has chaired two U.S. Government commissions and received many awards and honorary degrees, including the Presidential Eleanor Roosevelt Award for Human Rights. He is a Fellow of the American Academy of Arts and Sciences and a member of the Council on Foreign Relations.
Dorsen received his B.A. (1950) from Columbia University; an L.L.B. (1953) from Harvard University; an LL.D.(1981) from Ripon College, and an LL.D. (1992) John Jay College of Criminal Justice.
He also served as a clerk to Justice John M. Harlan II.