Biographical Information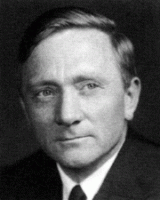 William O. Douglas was born in Maine, Minnesota on October 16, 1898, and raised in Washington state. When he was three, he contracted polio, and his mother, Julia Bickford, daily massaged his legs for several two hours until Douglas was able to walk again. His father, William, was a Presbyterian minister who died from complications after surgery when William O. Douglas was six. Douglas's family was left impoverished after a family friend lost the family's remaining money in a failed investment. Douglas was academically gifted, and received a scholarship to Whitman (Wash.) College. Even so, he worked several jobs during college to make ends meet. He graduated in 1920. Douglas taught school for two years, and then rode the rails (that is, he didn't buy a seat, but hopped on trains) to New York City, where he attended Columbia Law School. He was a brilliant student at Columbia, but was wounded for years that he failed to secure a clerkship with Supreme Court Justice Harlan Fiske Stone, a former Columbia Law School Professor and Dean. (Douglas would later serve on the Court with Stone.) After working at a large New York law firm, and following a brief sojourn back to Washington, Douglas returned to Columbia as a professor. In 1928, he moved to Yale Law School, where he remained for six years. Douglas, like many others of his generation, was captivated by FDR's New Deal, and left Yale formally in 1934 to work for the Securities and Exchange Commission (SEC), created by FDR in his First Hundred Days in 1933. Its chairman was Joseph P. Kennedy, the father of President John F. Kennedy. When Kennedy left the SEC in 1936, he managed Douglas's nomination as a member of the SEC. Within a year and a half, Douglas was named Chairman of the SEC. After the retirement of Louis D. Brandeis in 1939, Douglas's loyalty to the New Deal led FDR to nominate him to the Court. He was 40 years old, one of the youngest appointees ever to the Court.
Douglas served on the Court longer than any other Justice, 36 years and 7 months, eclipsing the record of Stephen Field. On December 31, 1974, Douglas suffered a massive stroke while vacationing in Nassau, The Bahamas. President Gerald Ford, who as House minority leader in 1970 had filed impeachment papers against Douglas, sent a military aircraft to the Bahamas to fly Douglas back to the United States. Although he remained determined to return to full health and stay on the Court, Douglas's ill health caused him to retire on November 18, 1975.
Douglas was strongly libertarian in his opinions, distrustful of establishments of all types, and considered himself a voice for the voiceless and powerless. Along with Justice Hugo Black, he was an absolutist on the Bill of Rights. He was well versed in corporate law (including antitrust) matters, which was his specialty as a law professor. He wrote his opinions quickly, which sometimes meant they were poorly crafted.
The most recent biography of Douglas, by Professor Bruce Allen Murphy, persuasively suggests that Douglas's memoirs (two of which are listed below in Further reading) were elaborate fictions.
Douglas was married four times. He married Mildred Riddle in 1923. They had two children, Mildred and William Jr. (nicknamed Bumble). He divorced her in 1954. That same year, Douglas married Mercedes Hester, from whom he was divorced in 1963. His third marriage, to Joan Martin, lasted three years, from 1963 to 1966, and also ended in divorce. His last marriage was to Cathleen Heffernan, and took place in 1966. Douglas died on January 19, 1980.
Position:
U. S. Supreme Court Justice
Affiliation:
U. S. Supreme Court Justice