Dengrove Collection Writeup
Black Liberation Army Member, Assata Shakur, Tried on Murder and Assault Charges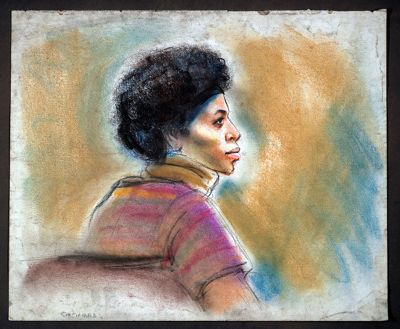 New Jersey v. Chesimard, 555 F.2d 63 (3d Cir. 1977)
Assata Shakur was born Joanne Deborah Byron and was raised middle-class in Queens. She joined the Black Panthers in college, but the arrests of the Panther leadership in 1969 effectively crushed the organization. The Black Liberation Army (BLA) replaced it.
On May 2, 1973, Shakur participated in a shoot-out on the New Jersey Turnpike that resulted in the death of one state trooper and the wounding of another. Assata Shakur was taken into custody. She conceived a child in prison, and the consideration of her pregnancy resulted in a mistrial. Meanwhile, the City of New York piled charge after charge on Shakur, using weak evidence and the rationale that the BLA had to be stopped. But juries recognized the prosecution's fragile cases. They dismissed or acquitted, over and over, and as Shakur waited to be tried on the murder and assault charges from the Turnpike shooting, civil rights groups began to see her as a symbol for courage in the face of oppression.
On March 25, 1977, Assata Shakur was found guilty and given the maximum sentence, despite testimony that her bullet scars corresponded to wounds incurred while surrendering. On November 2, 1978, three BLA members took advantage of the poor security at Shakur's prison and broke her out. She hid in Pittsburgh and then fled to Cuba in 1984, where she secured political asylum. She is currently #4 on the FBI's Most Wanted Terrorists List.