Dengrove Collection Writeup
The CBS Murders: the Trial of Donald Nash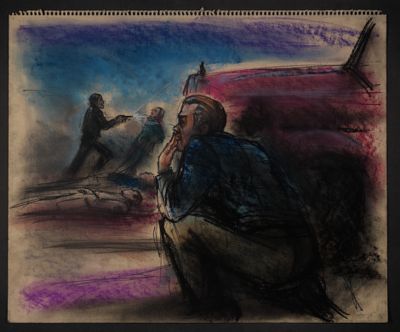 People v. Nash, 654 N.Y.S.2d 75 (App. Div. 1997)
Irwin Margolies had a problem: he'd committed a 5.7 million-dollar fraud, and two former employees—Jenny Soo Chin and Margaret Barbera—were critical witnesses in the federal investigation. So he and his lawyer hired a hitman. Donald Nash asked for $8,000 per murder.
On January 5, 1982, Jenny Soo Chin was abducted in Queens. Two witnesses saw an assailant in a ski mask come up behind Chin and shove her into her own station wagon. He then entered the driver's side and drove away. Chin's car was discovered abandoned and bloodstained nine days later. Her body was never found.
The following April 12, Angelo Sticca was trying to catch up with three of his fellow employees on the roof of a Hudson River garage when he heard snapping sounds. About 50 feet away, he saw a man dragging a woman's limp body toward a van. Sticca's peers—Leo Kuranuki, Robert Schulze, and Edward Benford—tried to intervene. The gunman shot them each once in the head. Sticca fled in his car. Margaret Barbera's body was found in Manhattan the next morning.
Nash's prosecutor brought a grocery cart to court filled with forensic evidence such as hair samples, a bloody bed sheet, and shell casings. It also helped that on the witness stand, Margolies's attorney disclosed damning evidence about his client. On May 24, 1983, Nash was convicted of four counts of second-degree murder and a single count of conspiracy. He was sentenced to 100 years in prison. Margolies was sentenced to 50 years for ordering the murders.