Biographical Information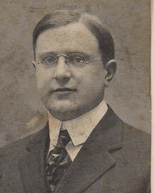 Gordon Mountjoy Buck was born in 1875. He earned a bachelor of laws degree from the University of Virginia in 1898, and was admitted to the bar in 1900. He is listed in Martindale's American Law Directory as working at 120 Broadway, New York City, in 1912, and at 165 Broadway two years later.
By 1921, Buck was working for the firm of Humes, Buck, Smith & Tweed. That firm became Humes, Buck & Smith the following year, and by 1930, Humes, Buck, Smith & Stowell, with offices at 50 Broadway in New York City. The firm had a general practice, with specializations in corporation, probate and financial law. Major clients included Southern Pacific Company and Pacific Oil Company, as well as many other railroad companies.
Buck retired from the practice of law sometime in 1936 or 1937, and returned with his wife to Virginia to live at his Greenwood estate, Whilton. His former firm survives today in New York City under the name of Humes, Andrews, Botzow & Wagner.