Biographical Information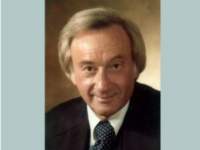 Irving J. Helman, a prominent and nationally known attorney, practiced corporate and business law for 60 of his 90 years with Nutter McClennen and Fish Attorneys LLP (originally Warren and Brandeis firm) in Boston. Many of these years were spent as Managing Partner.
Mr. Helman attended Brookline Schools, graduating in 1935. He graduated Magna Cum Laude, a Sears prize winner from Harvard College in 1939. He went on to Harvard Law School and was an outstanding scholar, editor of the Harvard Law Reviewand. He graduated in 1942 as number one in his class. While a third year law student he married Belle R. Crystal and they lived at Holden Green, Cambridge.
Mr Helman served as law clerk to Judge Calvert Magruder in the First Circuit. He was asked to work in Washington DC as one of "the best and the brightest" group to help with the war effort. He held many important positions including General Counsel of the Office of Price Administration where he closed the agency for the country. During his years in Washington he had received a coveted invitation to serve as law clerk to Associate Justice Felix Frankfurter in the US Supreme Court. With a heavy heart he was forced to reply that he had a more pressing invitation from the U.S. Army and he hoped he would return and serve at a later date which he did.
Mr. Helman served in the European Theatre for two and a half years. He was wounded in the Battle of the Bulge and was airlifted to a hospital in Tidworth, England. He returned to Fort Devens on a hospital ship with a severe wound and was awarded the Purple Heart. After a short period he returned to Washington to serve as law clerk to Associate Justice Felix Frankfurter, a remarkable learning experience. Associate Justice Frankfurter told Mr. Helman that he had a brilliant legal mind and that he should teach. The Associate Justice arranged for positions at Oxford, the University of Chicago, etc.
Aching to return home to Boston Mr. Helman chose to try private practice and he joined Nutter McCLennen and Fish, a decision he never regretted. Helman passed away on December 9, 2007 at the age of 90 after a long and courageous battle with cancer.