Biographical Information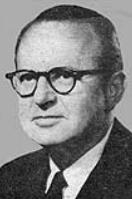 Mr. Newman graduated from Clemson College in Clemson, S.C., in 1931, and received a law degree from New York University in 1937.
Mr. Newman joined the R. G. Dun Company as a credit reporter in 1931. Dun merged with its major competitor, the John M. Bradstreet Company, in 1933, and the combined company began operating under the new name in 1939.
Mr. Newman was named a vice president in 1946, president in 1952, and chairman and chief executive in 1960. He joined Dun's finance committee when he retired in 1968, and remained a member for 12 years.
During Mr. Newman's tenure, Dun acquired several companies, including R. H. Donnelley, a publisher of the Yellow Pages and trade magazines, and Moody's Investors Service. Dun has since spun off both companies. Mr. Newman also oversaw the computerization of Dun's business databases in the early 1960's. In 1963, each company in the database was assigned an identifying number in Dun's Data Universal Numbering System. The nine-digit D.U.N.S. numbers are still used today.
Mr. Newman was a member of the United States Price Commission, which addressed price gouging, in 1971 and 1972 and of the Commission on Bankruptcy Laws from 1970 to 1973.
He died on July 8, 2003.