Biographical Information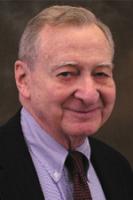 Mr. Leiman received an A.B. in 1951 from Wesleyan University and an LL.B. in 1954 from Harvard Law School where he was a member of the Harvard Law Review. He was admitted to practice law in New York in 1955. Mr. Leiman served as a law clerk for Judge Learned Hand of the United States Court of Appeals, Second Circuit, and for Justice John M. Harlan of the Supreme Court of the United States. From 1964 to 1966, he was executive assistant to the chairman of the Securities and Exchange Commission in Washington, D.C.
Leonard Leiman practices in Fulbright & Jaworski L.L.P.'s New York office and has been a partner since 1963. He is primarily engaged in general corporate and securities law. His practice includes underwritings; mergers and acquisitions and other transactional matters; representation of large, publicly traded corporations; representation of private and non-profit corporations; and, in the financial services area, representation of investment bankers; broker-dealers; investment advisers; and investment companies in their regulatory and business matters. His practice regularly includes domestic and cross-border transactions.
Before joining the firm,
Mr. Leiman has taught corporation and securities law as a visiting professor at the University of Pennsylvania Law School, Yale Law School and New York Law School.
Mr. Leiman is a member of the Committee on Federal Regulation of Securities of the American Bar Association and has served as chair of the Committee on Securities Regulation of the Association of the Bar of the City of New York. From 1984 to 1987 he was a public member of the Municipal Securities Rulemaking Board and from 1993 to 1997 was a member of the Legal Affairs Committee of the New York Stock Exchange. Mr. Leiman has been a director of several listed and over-the-counter traded corporations.