Biographical Information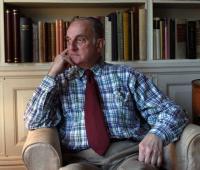 Louis S. Auchincloss wrote more than 50 books, averaging about one a year after the end of World War II, and crafted such accomplished works as the novel "The Rector of Justin" and the memoir "A Writer's Capital," not to mention biographies, literary criticism and short stories. He was a four-time fiction finalist for the National Book Award, his nominated novels including "The Embezzler" and "The House of Five Talents."
Mr. Auchincloss lived up to the Old World ideal of being "useful," bearing the various titles of writer, attorney, community leader and family man. He was a partner at the Wall Street firm of Hawkins, Delafield & Wood and served as president of both the Museum of the City of New York and the American Academy of Arts and Letters.
He was also a cousin by marriage to Jacqueline Kennedy Onassis, and she worked with him when she was a book editor late in her life. He described her as "a shrewd and imaginative editor of prose, and she has impeccable taste in illustrations. She's always done things very well, ever since she was a little girl."
His early years were typical of his class: a Fifth Avenue private school, Groton, Yale University, law school at the University of Virginia. After serving in the Navy during World War II, he completed his first novel, "The Indifferent Children," a war story the insecure young writer published under the pen name "Andrew Lee."
Reviewers, however, praised the book, and from that point the author remained forever Auchincloss. He quit law in 1951, discovered the additional time did nothing for his writing and returned in 1954.
His other works included the novels "Her Infinite Variety" and "Pursuit of the Prodigal," the story collection "Tales of Manhattan" and a short biography of Theodore Roosevelt for Times Books' presidential series. He was so compulsive a writer that after completing the Roosevelt book, he showed up unannounced at the offices of his publisher with a finished text for Calvin Coolidge, only to be told the president's life had been assigned to someone else.