Biographical Information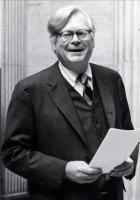 Monrad Paulsen, a native of Iowa, received an A.B. in 1940 and a J.D. in 1942 from the University of Chicago. After practicing briefly in Chicago, he began his teaching career at the University of Utah. He also taught at Indiana University and the University of Minnesota, before joining the Columbia faculty in 1956. Paulsen was a respected scholar in the fields of juvenile, domestic relations, and poverty law, as well as criminal law and procedure.
When Hardy Dillard retired from the deanship, he highly recommended Paulsen to succeed him. The first dean who had not previously been a member of the Virginia law faculty, Paulsen served in that post until 1975, and in that time attracted many fine scholars to the faculty. During his deanship, the student population grew by two hundred as the 1970s saw increasing numbers of women and minority students. The growth in the faculty and student body, along with curriculum changes and new organizations, pushed Clark Hall to its limits. Near the end of Paulsen's deanship, the Law School building at North Grounds was constructed and occupied.
In 1975, Paulsen went to New York to help establish and serve as dean of the Cardozo Law School at Yeshiva University. He died in 1980.
These professional papers were left behind in the dean's office when Paulsen moved to New York.
Position:
5th Dean of the Law School