Biographical Information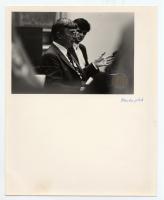 A native of Boston born in 1934, Robert M. O'Neil earned a bachelor's degree in American history from Harvard University in 1956, followed by a master's degree a year later. After completing a law degree at Harvard in 1961, he clerked for Supreme Court Justice William J. Brennan, Jr., and in 1963 he started teaching at the University of California Law School at Berkeley. O'Neil's career in academic administration began in 1967 with a two-year stint as executive assistant to SUNY-Buffalo president Martin Meyerson, whom O'Neil had met at Berkeley. O'Neil subsequently resumed teaching at Berkeley until 1971; the following year, he took up a post as vice president and provost for academic affairs at the University of Cincinnati, later becoming executive vice president for academic affairs. In 1975, O'Neil was named vice president of Indiana University for the Bloomington campus, and in 1980, he became president of the statewide University of Wisconsin system.
 
In September of 1985, O'Neil assumed the presidency of the University of Virginia, where in contrast to predecessors, he regarded himself as an "outsider" with no previous ties to the university. He brought to the post a commitment to improving conditions for women at the university and strengthening the numbers of African Americans among the faculty and student body. Under his leadership, the university established a Women's Center, a day care center for employees' children, and a scholarship program for African American students. At the same time, O'Neil oversaw the development of new programs of study in biomedical ethics, environmental science, women's studies, and Tibetan studies, as well as a new master's of teaching degree. Upon his retirement from the presidency in 1990, he became the founding director of the Thomas Jefferson Center for the Protection of Free Expression, a natural outgrowth of his longtime professional interest in free speech and civil liberties.
 
Throughout his two decades as an academic administrator, O'Neil kept one foot in the classroom, teaching at least one course every semester. After stepping down as president, he continued to teach at the University of Virginia School of Law until retiring in 2007. He has shown a similar commitment to public service, taking on leadership roles for organizations including the Virginia Council for Open Government, the Council for America's First Freedom, the Commonwealth Fund, the James River Corporation, the American Association of University Professors, the Ford Foundation, and the National Association of State Universities and Land-Grant Colleges.