Biographical Information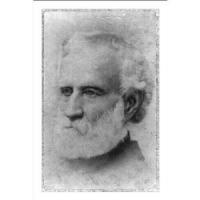 Thomas Turner Fauntleroy was born in in Richmond County Virginia on 6 October 1796, and was commissioned a lieutenant in the U.S. Army during the War of 1812. Commissioned a Major of Dragoons, June 8, 1836, he served in the Seminole War. He was promoted to Lieutenant Colonel, Second Regiment of Dragoons, June 30, 1846. In the Mexican–American War he commanded the cavalry of General Scott's army in Mexico. In 1849 he was in command of the First Regiment of Dragoons, commanding troops on frontier duty in Texas. From here, he was assigned to the Post at Mission San Diego de Alcalá at San Diego and was promoted to Colonel, July 25, 1850. In the winter of 1854 - 1855 he conducted a campaign against the hostile Utes of the Rocky Mountains and made another mid-winter campaign against the Apache in New Mexico. He led several expeditions against the Apaches in the company of Kit Carson and from 1859 - 1861 commanded the Department of New Mexico.
After the Battle of Fort Sumter that began the American Civil War, in May 1861, Fauntleroy resigned his commission and returned to Virginia. There he was appointed by the Governor of Virginia John Letcher as Brigadier-General of the Provisional Army of Virginia. But after the organization of the Confederate States of America he refused to confirm his commission. He was relieved of that rank on his request on August 25, 1861, having never held Confederate rank. However his eldest son, C. M. Fauntleroy was a U. S. Navy officer that joined the Confederate Navy and commanded the CSS Rappahannock. His second son, also named Thomas T. Fauntleroy, was a Virginia politician and judge of the Virginia Supreme Court of Appeals. Another son Archibald Magill Fauntleroy was a surgeon in the Confederate army and later a physician. A daughter, Mary Thurston Fauntleroy, married U.S. Surgeon-General Joseph Barnes.
Fauntleroy was buried in Mount Hebron Cemetery, Winchester, Virginia.